Kitchen Design
The kitchen is one area of the home that sees the most wear and tear. All the water, heat, and food spills add up quickly so it's important to focus on quality and lasting appeal when you're choosing materials for a kitchen remodel. Here are a few things you should avoid:
Countertops
Cheap Laminate Countertops: The bottom rung of laminate is extremely susceptible to wear and tear. It can melt if you forget to place a hot pad under a pan that's fresh out of the oven and the edges can chip off from repeated exposure to moisture and heat.
Paint
Flat Paint: A flat or matte finish is great in rooms with lower traffic, but it's a bad idea in the kitchen where the walls are regularly exposed to splatters and spills. You need paint that can withstand an occasional heavy scrubbing, so opt for gloss or semi-gloss finishes.
Backsplash
Trendy Backsplash: If you watch any home remodeling show, you'll certainly see kitchens with expensive, elaborate backsplash designs and materials. Those trends can be pricey to pursue and can look dated in a hurry. Subway tile is a cheaper, classic option that you'll never regret, plus you'll have more room in your budget to purchase quality materials to be used elsewhere.
Flooring
Cheap Flooring: Just like the countertops, your kitchen floor needs to be strong enough to take some abuse. Cheap flooring easily scuffs and peels (especially from moisture). Quality flooring is worth the investment.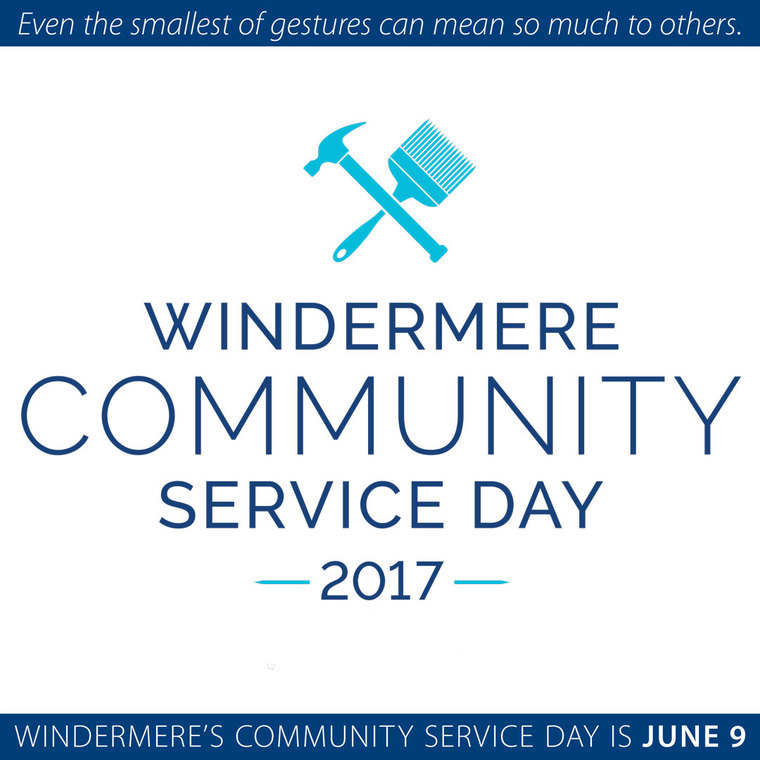 From Cap and Gown to Community Service
Posted in Community, Perspectives, and Windermere by Jill Jacobi Wood, OB Jacobi & Geoff Wood
Like many of you, our family has a high school student graduating soon who is both eager and excited to embark upon life's next phase. It wasn't all that long ago that for graduates, like ours, community service was something they did to pad their college applications, but now this important exercise is a requirement at most high schools. That's because a common belief is that community service links together the academic, social, and emotional elements of learning while giving kids the chance for personal growth through helping others. And hopefully those same kids will grow into adults who will continue to be engaged, positive citizens in their community.
This is a philosophy that we believe in wholeheartedly at Windermere. That's why every year our offices close their doors for one day to help make a positive difference in their communities. It all started in 1984 with a handful of agents who came together to help out a local elementary school that needed some TLC. Thirty-three years and more than one million hours of community service later, we've continued this tradition through neighborhood-enhancing projects in the areas where our Windermere teams live, work, and play.
We agree that community service shouldn't end with a cap and gown. Over the years, our team has proven this time and time again by embodying the notion that service to others is not something you do, it is who you are.
On Friday June 9, Windermere offices throughout the Western U.S. will close their doors for our company-wide Community Service Day. You can follow their projects on our Facebook page: www.Facebook.com/WindermereRealEstate.
ECONOMIC OVERVIEW
Annual employment growth in Washington State slowed somewhat in the third quarter of this year, but still remains well above the long-term average. Additionally, the jobs that are being created are primarily quality, high-paying positions, which is important for the health of our economy.
Unemployment in the state remains at levels that are somewhat higher than I would like to see, but this continues to be impacted by a growing labor force and modestly slowing job growth. I still expect to see the rate drop a little further as we move through the final quarter of the year.
HOME SALES ACTIVITY
There were 24,277 home sales during the third quarter of 2016—up by an impressive 7.9% from the same period in 2015, and 6.8% above the total number of sales seen in the second quarter of this year.
Skagit County saw sales grow at the fastest rate over the past 12 months, with transactions up by 25.6%. There were also impressive increases in home sales in Thurston, San Juan, Pierce, and Grays Harbor Counties. Sales fell slightly in Jefferson and Kittitas Counties.
Overall listing activity remains low with the total number of homes for sale at the end of the quarter 11.2% below that seen a year ago. That said, I'm happy to report that listings have been slowly trending higher in 2016.
I've been thinking about how sales can continue to rise while inventory remains so low. I believe this is due to an uptick in first-time buyers. These buyers have no home to sell, so they don't add to the number of listings; however, they do cause sales to increase when they buy. This is a good trend to see!
HOME PRICES
As demand continues to exceed supply, we are continuing to see upward pressure on home prices. In the third quarter, average prices rose by a substantial 10.2% and are 3.2% higher than seen in the second quarter of this year.
The current rate at which homes are appreciating cannot continue, and I anticipate that we will see a "cooling" start to take place in 2017.
When compared to the third quarter of 2015, price growth was most pronounced in Lewis County. In total, there were nine counties where annual price growth exceeded 10% and prices were higher across the entire region when compared to a year ago.
Although supply levels are slowly starting to creep higher, we are still solidly in a seller's market. Rising inventory levels should start to do a better job of meeting demand next year, which when combined with modestly higher mortgage interest rates, will see the region move closer toward becoming a balanced market.
DAYS ON MARKET
The average number of days it took to sell a home dropped by twenty-two days when compared to the third quarter of 2015.
All the counties that comprise this report saw the length of time it took to sell a home drop.
In the third quarter of 2016, it took an average of 52 days to sell a home. This is down from the 74 days it took in the third quarter of 2015, and down from the 67 days it took in the second quarter of this year.
King and Snohomish Counties remain the only two markets where it took less than a month to sell a home. Even though King County saw days on market rise slightly from 18 to 20, it remains the hottest market in the region.
CONCLUSIONS
This speedometer reflects the state of the region's housing market using housing inventory, price gains, sales velocities, interest rates, and larger economics factors. For the third quarter of 2016, I am moving the needle very slightly toward the buyers. This is entirely due to the recent increase in inventory levels that I believe will continue through the rest of the year. That said, the region remains steadfastly a seller's market.
Matthew Gardner is the Chief Economist for Windermere Real Estate, specializing in residential market analysis, commercial/industrial market analysis, financial analysis, and land use and regional economics. He is the former Principal of Gardner Economics, and has over 25 years of professional
Maybe you're thinking of selling, maybe you're thinking of refinancing, or maybe you're just curious about the market. But the question is, "What is that domicile of your's worth?"
Such a simple question should be returned with a simple answer, right? Well unfortunately, determining the value of your home–or any home for that matter–can be a tricky process. You can go online and nowadays there are endless websites that will promise you a fast answer with fancy charts and graphs. As tempting as it may be to trust this information, be wary of letting a computer program tell you what your largest investment is worth.
The trouble with these websites is that they have little to no local market information. They are not aware that a new park is being built, or that a four-lane highway is being re-routed, or that you've lovingly cared for and maintained your home.
The bottom line is this: If you're serious about getting an informative valuation for your home you should contact a local real estate professional. These professionals work with the actual people who will ultimately determine the value of your home–the home buyer themselves. This is their profession and they will be happy to sit with you and explain the current market conditions that affect your home value.