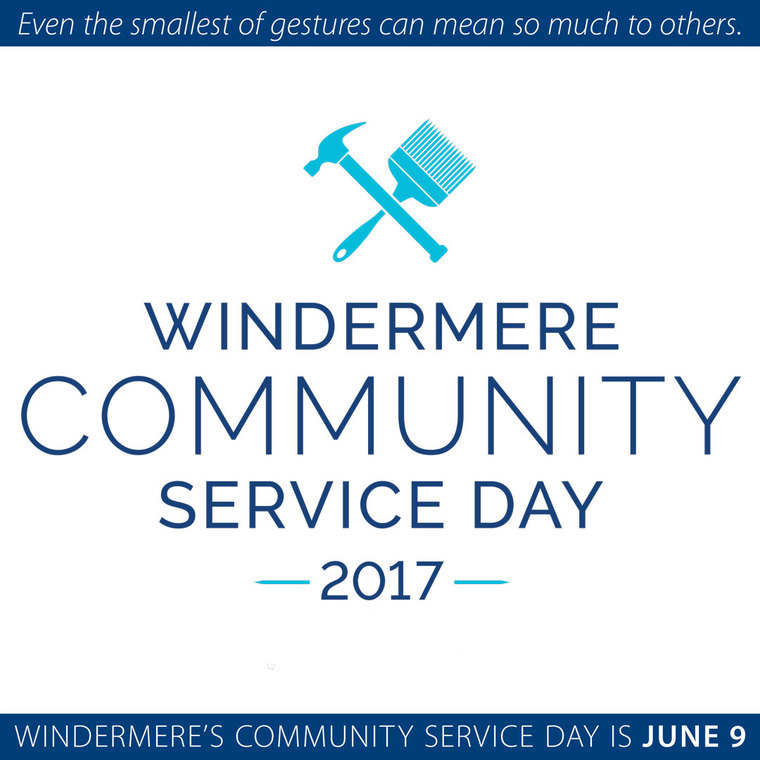 From Cap and Gown to Community Service
Posted in Community, Perspectives, and Windermere by Jill Jacobi Wood, OB Jacobi & Geoff Wood
Like many of you, our family has a high school student graduating soon who is both eager and excited to embark upon life's next phase. It wasn't all that long ago that for graduates, like ours, community service was something they did to pad their college applications, but now this important exercise is a requirement at most high schools. That's because a common belief is that community service links together the academic, social, and emotional elements of learning while giving kids the chance for personal growth through helping others. And hopefully those same kids will grow into adults who will continue to be engaged, positive citizens in their community.
This is a philosophy that we believe in wholeheartedly at Windermere. That's why every year our offices close their doors for one day to help make a positive difference in their communities. It all started in 1984 with a handful of agents who came together to help out a local elementary school that needed some TLC. Thirty-three years and more than one million hours of community service later, we've continued this tradition through neighborhood-enhancing projects in the areas where our Windermere teams live, work, and play.
We agree that community service shouldn't end with a cap and gown. Over the years, our team has proven this time and time again by embodying the notion that service to others is not something you do, it is who you are.
On Friday June 9, Windermere offices throughout the Western U.S. will close their doors for our company-wide Community Service Day. You can follow their projects on our Facebook page: www.Facebook.com/WindermereRealEstate.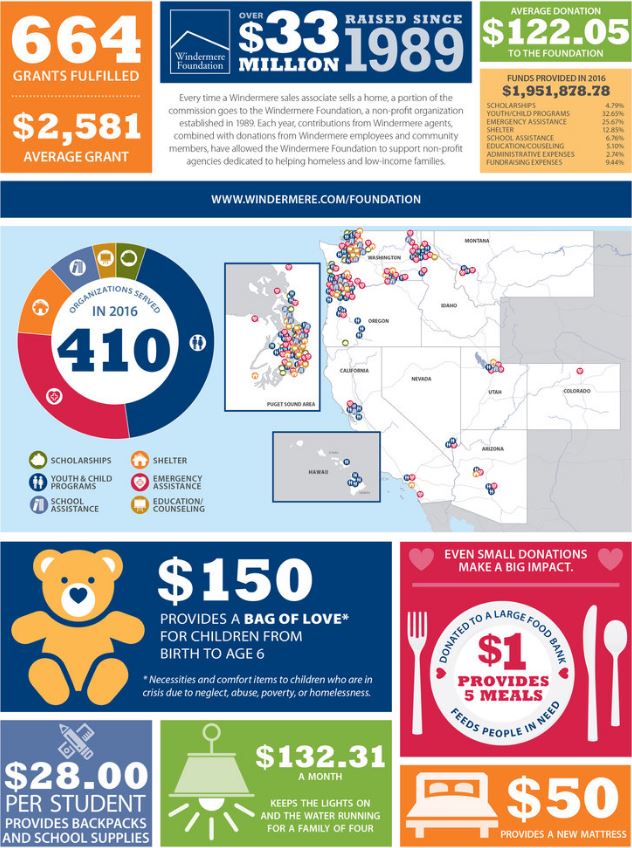 For the past 28 years, the Windermere Foundation has been helping those in need in our communities through donations to local organizations that provide services to low-income and homeless families. In 2016, the Windermere Foundation raised over $2.2 million in donations, bringing the total to over $33 million raised since it started in 1989.
Last year, 35 percent of the donations to the Windermere Foundation came from agent commissions. That's because every time you use a Windermere agent to buy or sell a home, they make a donation to the Windermere Foundation. The other 65 percent came from additional donations made by Windermere agents, employees and the community. Because of these donations, the Windermere Foundation was able to fulfill 664 grants and help 410 organizations that provide help to those in need.
And every dollar donated is put to good use! As you can see from the infographic below, even small donations make a big impact and help us fund things like food bank meals, school supplies for underprivileged students, and resources for children in crisis.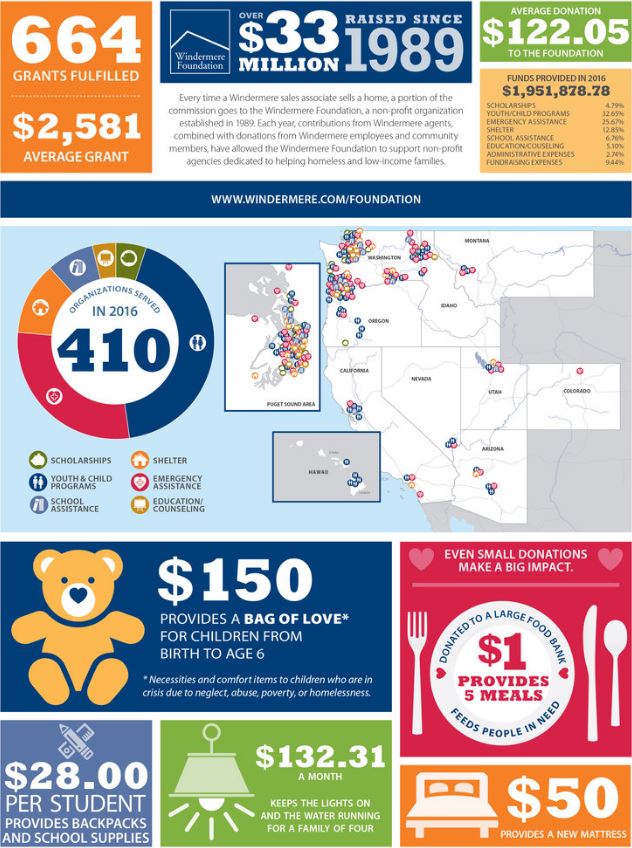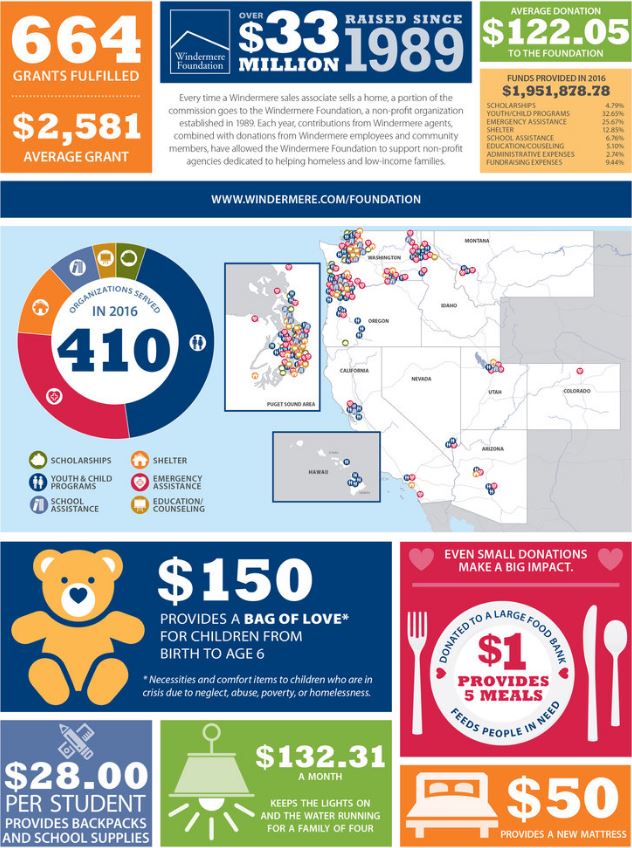 In partnership with the Seattle Seahawks, Windermere has donated $100 for every home game tackle this season to YouthCare to help #tacklehomelessness As the season comes to a close, we've decided to up the ante, so we're donating an additional $54 for every tackle made by our favorite #54, Bobby Wagner, who currently leads the NFL in tackles.  This beings us to a grand total of $35,000 which will go towards funding essential services for homeless youth.  Congratulations to our Seahawks for a great season and thank you for helping us #tacklehomelessness.  Good Luck in the Playoffs!
For each Seahawks home game tackle this season, we are making a $100 donation to YouthCare, a local nonprofit that provides services and support to homeless youth.  Yesterday's game helped deliver another $2,500 to help #tacklehomelessness resulting in a total of $17,900 delivered so far this year! Congratulations to the Seahawks on another great WIN!!
Are you ready for some Monday Night Football?  Cheer extra loud for our defense because each tackle they make will result in us donating $100 to YouthCare to help #tacklehomelessness. As the Official Real Estate Company of the Seattle Seahawks, we're proud we can work together to make a difference in our community. #tacklehomelessness #SEAvsBUF #goHawks #MNF
Way to go Hawks! This week we are donating $2,500 to our partners at YouthCare to help #TackleHomelessness. As the Official Real Estate Company of the Seattle Seahawks, we're donating $100 per Seahawk's home game tackle. So far this year we are giving $8,200 to provide essentials for homeless youth. #tacklehomelessness