Kitchen Design
The kitchen is one area of the home that sees the most wear and tear. All the water, heat, and food spills add up quickly so it's important to focus on quality and lasting appeal when you're choosing materials for a kitchen remodel. Here are a few things you should avoid:
Countertops
Cheap Laminate Countertops: The bottom rung of laminate is extremely susceptible to wear and tear. It can melt if you forget to place a hot pad under a pan that's fresh out of the oven and the edges can chip off from repeated exposure to moisture and heat.
Paint
Flat Paint: A flat or matte finish is great in rooms with lower traffic, but it's a bad idea in the kitchen where the walls are regularly exposed to splatters and spills. You need paint that can withstand an occasional heavy scrubbing, so opt for gloss or semi-gloss finishes.
Backsplash
Trendy Backsplash: If you watch any home remodeling show, you'll certainly see kitchens with expensive, elaborate backsplash designs and materials. Those trends can be pricey to pursue and can look dated in a hurry. Subway tile is a cheaper, classic option that you'll never regret, plus you'll have more room in your budget to purchase quality materials to be used elsewhere.
Flooring
Cheap Flooring: Just like the countertops, your kitchen floor needs to be strong enough to take some abuse. Cheap flooring easily scuffs and peels (especially from moisture). Quality flooring is worth the investment.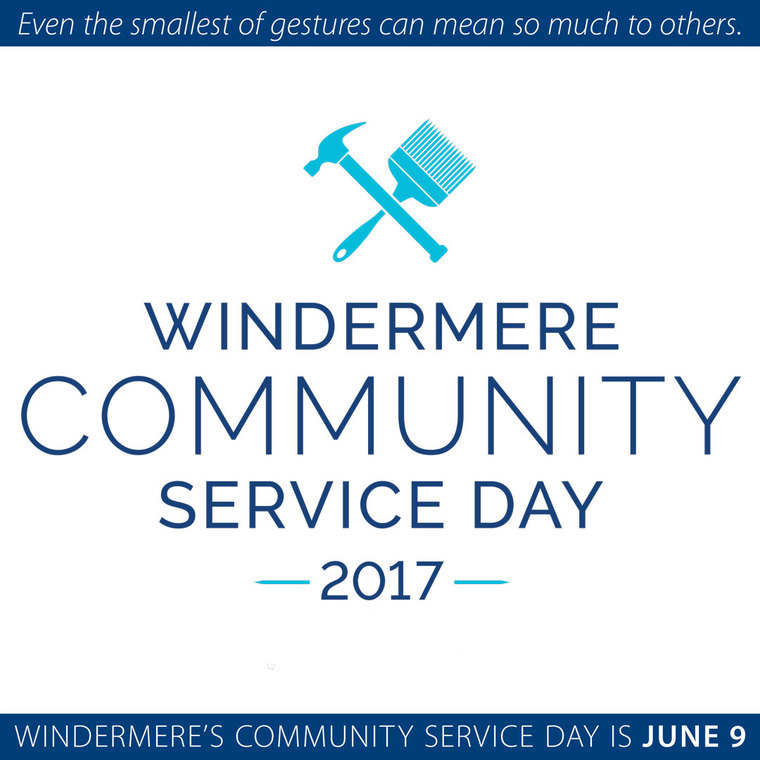 From Cap and Gown to Community Service
Posted in Community, Perspectives, and Windermere by Jill Jacobi Wood, OB Jacobi & Geoff Wood
Like many of you, our family has a high school student graduating soon who is both eager and excited to embark upon life's next phase. It wasn't all that long ago that for graduates, like ours, community service was something they did to pad their college applications, but now this important exercise is a requirement at most high schools. That's because a common belief is that community service links together the academic, social, and emotional elements of learning while giving kids the chance for personal growth through helping others. And hopefully those same kids will grow into adults who will continue to be engaged, positive citizens in their community.
This is a philosophy that we believe in wholeheartedly at Windermere. That's why every year our offices close their doors for one day to help make a positive difference in their communities. It all started in 1984 with a handful of agents who came together to help out a local elementary school that needed some TLC. Thirty-three years and more than one million hours of community service later, we've continued this tradition through neighborhood-enhancing projects in the areas where our Windermere teams live, work, and play.
We agree that community service shouldn't end with a cap and gown. Over the years, our team has proven this time and time again by embodying the notion that service to others is not something you do, it is who you are.
On Friday June 9, Windermere offices throughout the Western U.S. will close their doors for our company-wide Community Service Day. You can follow their projects on our Facebook page: www.Facebook.com/WindermereRealEstate.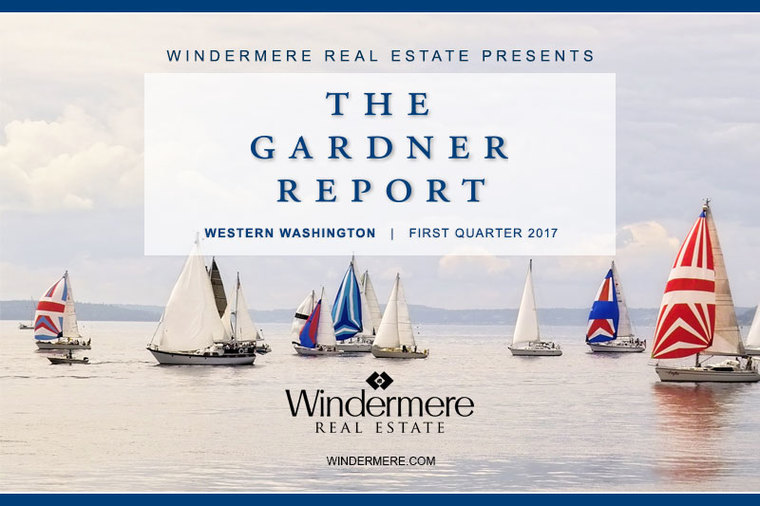 Western Washington Real Estate Market Update
Posted in Market News and Western Washington Real Estate Market Update by Matthew Gardner, Chief Economist, Windermere Real Estate
ECONOMIC OVERVIEW
I'm happy to report that Washington State continues to add jobs at a steady rate. While the rate of growth is tapering, this is because many markets are getting close to "full employment", during which time growth naturally slows. That said, I believe that the state will add around 70,000 jobs in 2017. Washington State, as well as the markets that make up Western Washington, continues to see unemployment fall and I anticipate that we will see this rate drop further as we move through the year. In all, the economy continues to perform at or above average levels and 2017 will be another growth year.
HOME SALES
There were 15,652 home sales during the first quarter of 2017. This is an increase of 9.5% from the same period in 2016, but 20.7% below the total number of sales in the final quarter of 2016.
With an increase of 45.5%, sales in Clallam County grew at the fastest rate over the past 12 months. There were double-digit gains seen in an additional 10 counties, suggesting that demand remains very robust. The only modest decline in sales was seen in Grays Harbor County.
The number of homes for sale showed no improvement at all, with an average of just 6,893 homes for sale in the quarter, a decline of 33% from the previous quarter and 25% from the first quarter of 2016. Pending sales rose by 2% relative to the same quarter a year ago.
The key takeaway from this data is that 2017 will offer little relief to would-be home buyers as the housing supply remains severely constrained.
HOME PRICES
With demand continuing to exceed supply, home prices continued to rise at above-average rates. Year-over-year, average prices rose by 9.5% but were 1.1% lower than in the final quarter of 2016. The region's average sales price is now $409,351.
Price growth in Western Washington is unlikely to taper dramatically in 2017 and many counties will continue to see prices appreciate well above their long-term averages.
When compared to the same period a year ago, price growth was most pronounced in Kittitas County, which rose by 19.6%. Double-digit price growth was seen in an additional 10 counties. The only market where the average price fell was in the ever-volatile San Juan County.
It is clear that rising interest rates have not taken much of a sheen off the market.
DAYS ON MARKET
The average number of days it took to sell a home in the first quarter dropped by 16 days when compared to the first quarter of 2016.
King County remained the tightest market, with the average time to sell a home at just 31 days. Island County was the only area where it took longer to sell a home than seen a year ago; however, the increase was just one day.
In the first quarter of the year, it took an average of 70 days to sell a home. This is down from the 86 days it took in the first quarter of 2016, but up from the 64 days it took in the final quarter of last year.
Given woefully low levels of inventory in all Western Washington markets, I do not expect to see the length of time that it takes to sell a home rising in 2017. In fact, it is likely that it will continue to drop.
CONCLUSIONS
This speedometer reflects the state of the region's housing market using housing inventory, price gains, home sales, interest rates, and larger economic factors. For the first quarter of 2017, I moved the needle a little more in favor of sellers. The rapid increase in mortgage rates during the fourth quarter of 2016 has slowed and buyers are clearly out in force.
Matthew Gardner is the Chief Economist for Windermere Real Estate, specializing in residential market analysis, commercial/industrial market analysis, financial analysis, and land use and regional economics. He is the former Principal of Gardner Economics, and has over 25 years of professional experience both in the U.S. and U.K.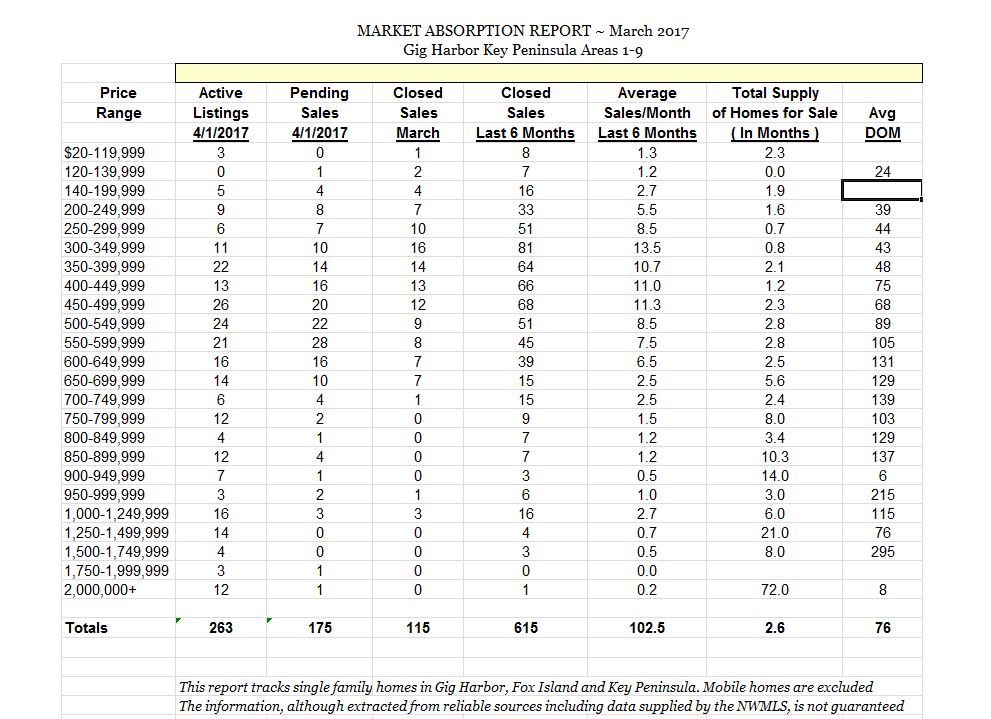 HOME PRICES CONTINUE TO RISE IN JANUARY AS SUPPLY REMAINS TIGHT.
FEDERAL RESERVE RAISES INTEREST RATES
According to the S&P Case-Shiller Home Price Index, home prices in the Seattle Metropolitan Index (which includes Pierce County) rose 0.6% in January.  This represented the highest increase in any of the cities in Case Shiller's 20-city Index except San Diego where prices were up 0.8%.   For the twelve months January 2016 to January 2017 prices rose 11.3% in the region. A reminder: Case Shiller reports prices with a two month lag.
Home Prices on upward trend
David Blitzer, Chairman of the Index Committee reported:  "Home Prices continue on a generally upward trend.  The recent action by the Federal Reserve raising the target for the Fed Funds rate by a quarter percentage point is expected to add less than a quarter percentage point to mortgage rates in the near future.  Given the market's and the economy's current strength, the small increase in interest rates isn't expected to dampen home buying.  If we see three or four additional increases this year, rising mortgage rates could become a concern."
Inventory
"While prices have varied month-to-month and across the country, the national price trend has been positive since the first quarter of 2012.   In February, the inventory of homes in the market represented 3.7 months of sales, lower than the long-term average of six months.  Tight supplies and rising prices may be deterring some people from trading up to a larger home, further aggravating supplies because fewer people are selling their homes.  The prices also hurt affordability as higher prices and mortgage rates shrink the number of households that can afford to buy at current prices levels.  At some point, this process will force prices to level off or decline—however we don't appear to be there yet."
Gig Harbor Area
In the Gig Harbor/Key Peninsula/Fox Island market, the 115 home sales this March was a 28% increase over the 90 sales in March of 2016.  There are currently 263 active listings of homes for sale in Gig Harbor, representing only a 2.6 month's supply, based on current sales volume.  See where you home fits on the attached Market Absorption Report.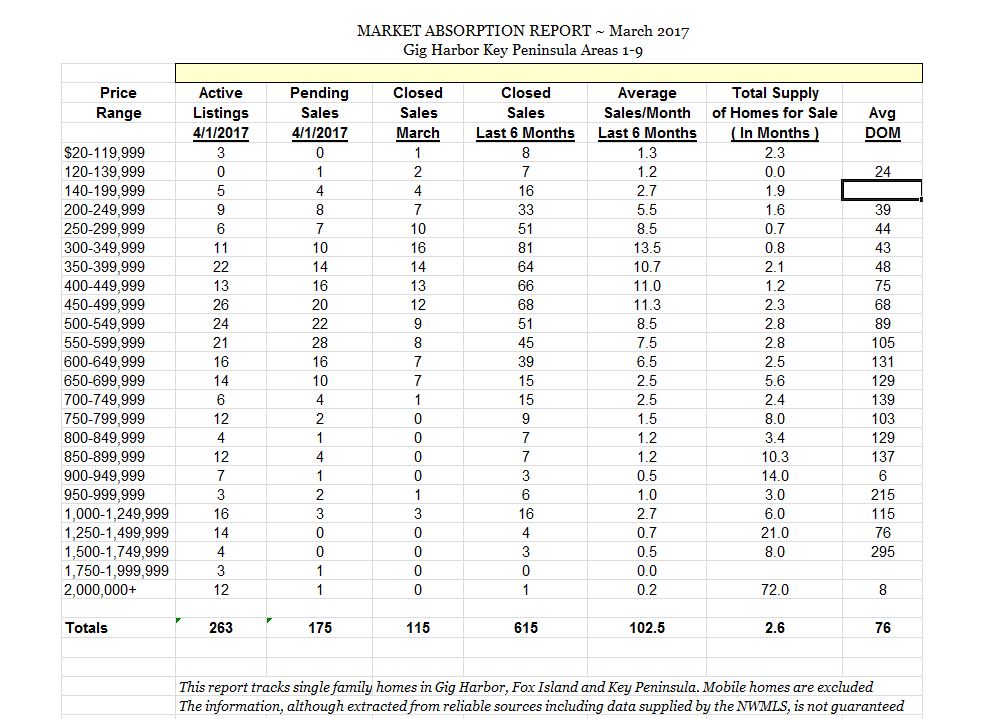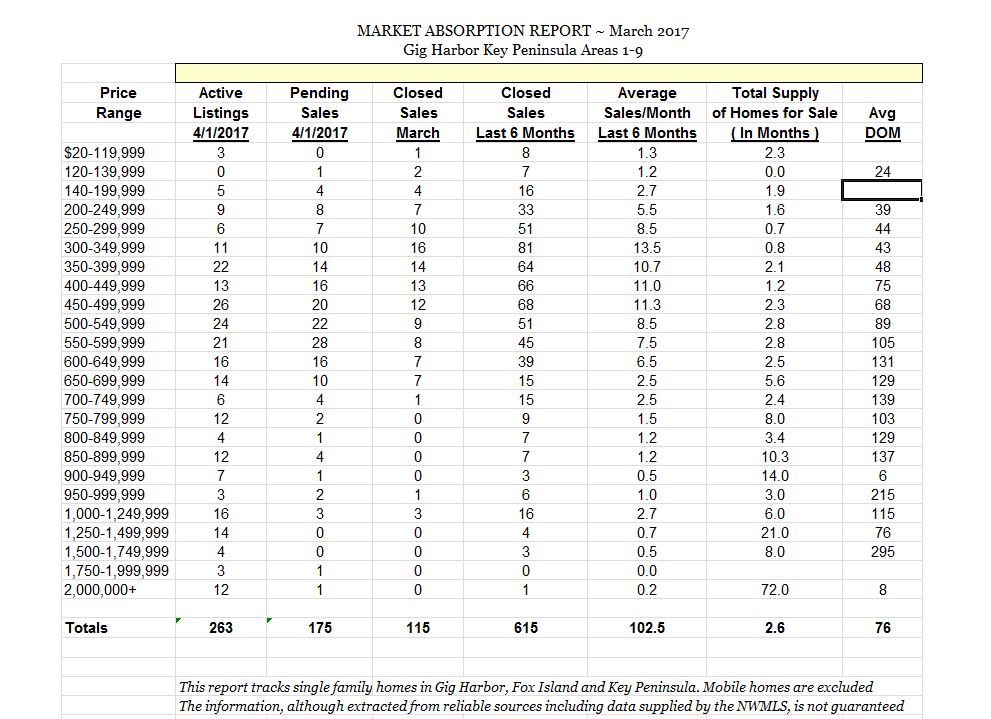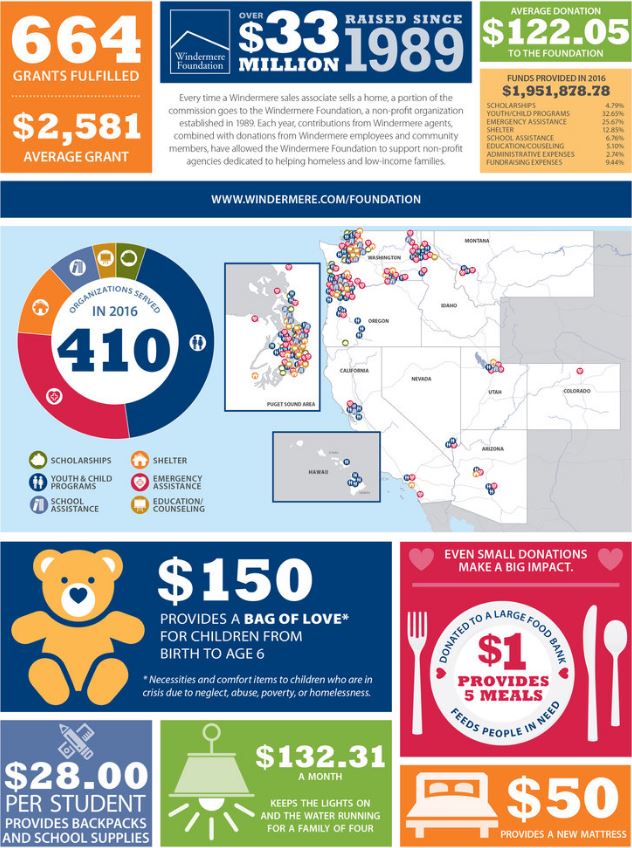 For the past 28 years, the Windermere Foundation has been helping those in need in our communities through donations to local organizations that provide services to low-income and homeless families. In 2016, the Windermere Foundation raised over $2.2 million in donations, bringing the total to over $33 million raised since it started in 1989.
Last year, 35 percent of the donations to the Windermere Foundation came from agent commissions. That's because every time you use a Windermere agent to buy or sell a home, they make a donation to the Windermere Foundation. The other 65 percent came from additional donations made by Windermere agents, employees and the community. Because of these donations, the Windermere Foundation was able to fulfill 664 grants and help 410 organizations that provide help to those in need.
And every dollar donated is put to good use! As you can see from the infographic below, even small donations make a big impact and help us fund things like food bank meals, school supplies for underprivileged students, and resources for children in crisis.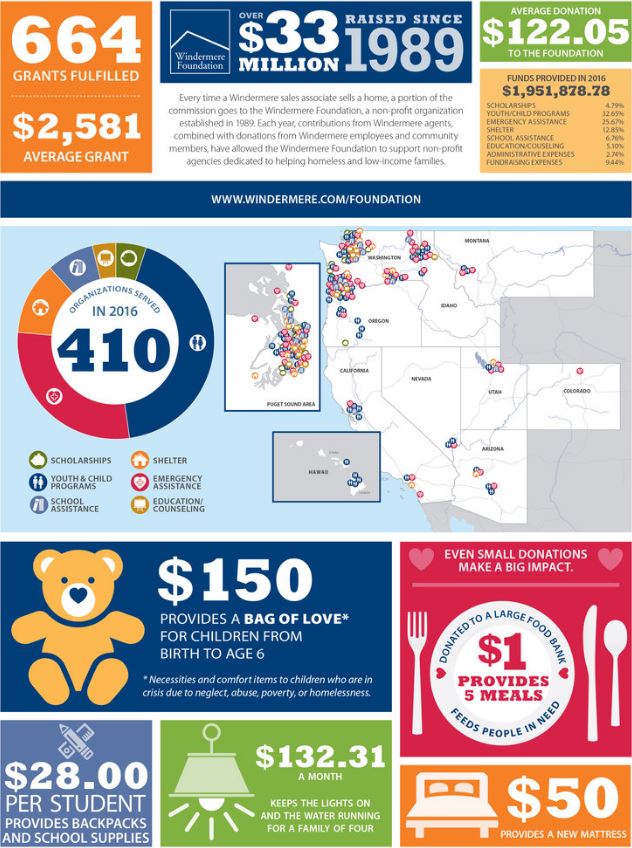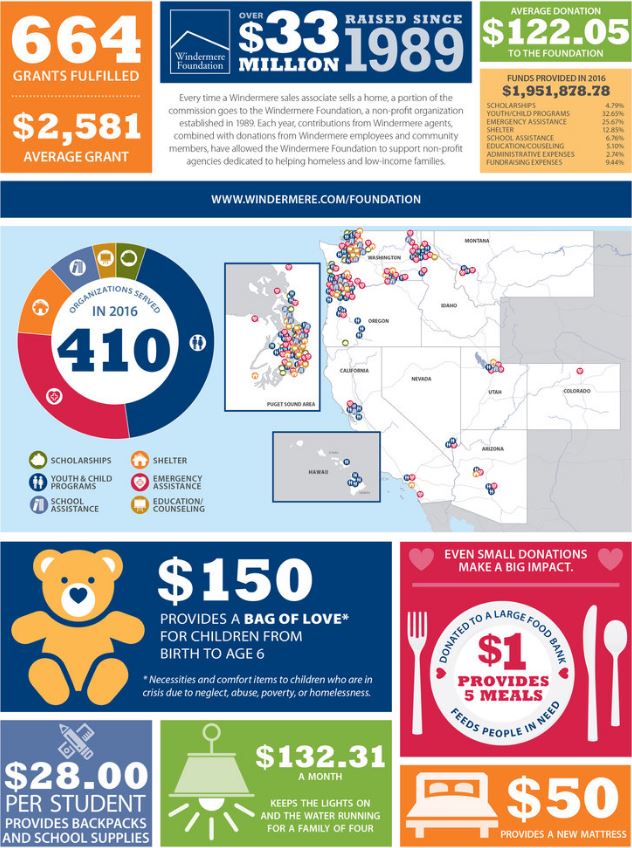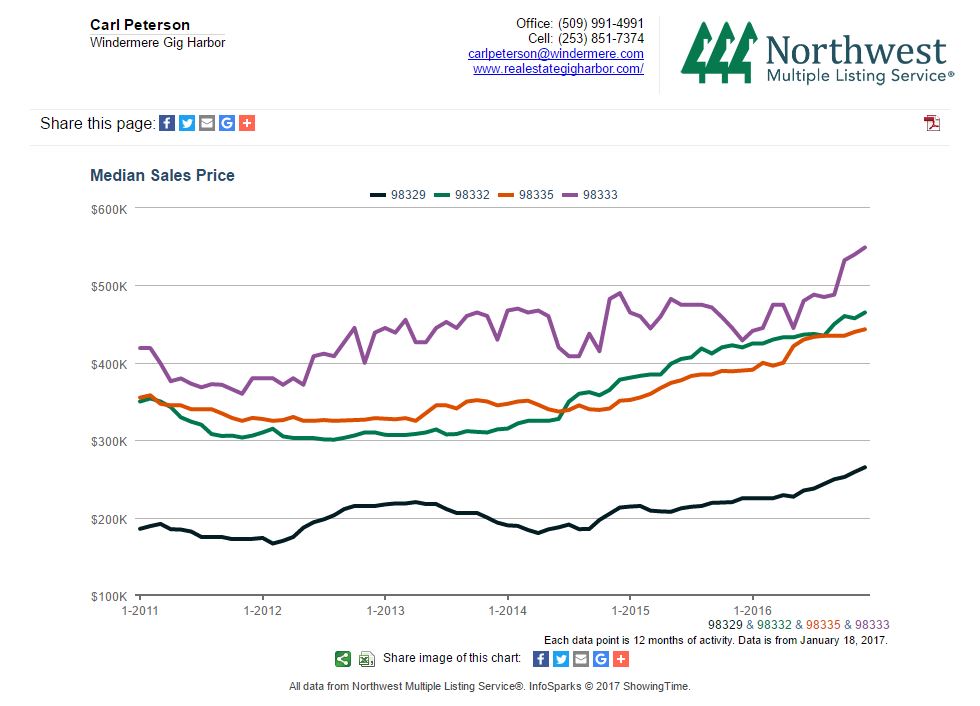 5 Year Trend for Gig Harbor and Fox Island Median Sales Price. Click the link below to see more.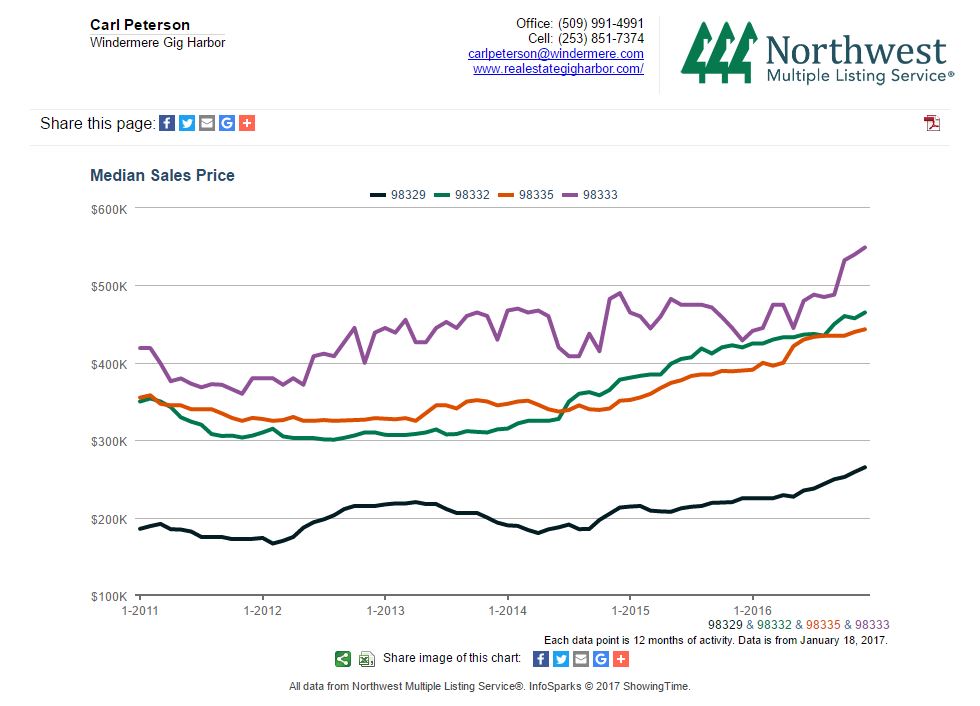 http://nwmls.stats.showingtime.com/infoserv/s-v1/Qrk1-sf8
Call us for more information!
Seahawks Football and Windermere Real Estate
We're proud to be the Official Real Estate Company of the Seattle Seahawks, and to promote this Saturday's game, which we hope will end with a Seahawks win!
We are excited to announce that Windermere's partnership with the Seattle Seahawks will be highlighted in a TV promotion for Saturday's divisional playoff game between the Seattle Seahawks and the Atlanta Falcons. Starting Friday, watch for the promo on Q13 during their morning and evening news programs, and again leading up to the game.
For each Seahawks home game tackle this season, we are making a $100 donation to YouthCare, a local nonprofit that provides services and support to homeless youth.  Yesterday's game helped deliver another $2,500 to help #tacklehomelessness resulting in a total of $17,900 delivered so far this year! Congratulations to the Seahawks on another great WIN!!
Maybe you're thinking of selling, maybe you're thinking of refinancing, or maybe you're just curious about the market. But the question is, "What is that domicile of your's worth?"
Such a simple question should be returned with a simple answer, right? Well unfortunately, determining the value of your home–or any home for that matter–can be a tricky process. You can go online and nowadays there are endless websites that will promise you a fast answer with fancy charts and graphs. As tempting as it may be to trust this information, be wary of letting a computer program tell you what your largest investment is worth.
The trouble with these websites is that they have little to no local market information. They are not aware that a new park is being built, or that a four-lane highway is being re-routed, or that you've lovingly cared for and maintained your home.
The bottom line is this: If you're serious about getting an informative valuation for your home you should contact a local real estate professional. These professionals work with the actual people who will ultimately determine the value of your home–the home buyer themselves. This is their profession and they will be happy to sit with you and explain the current market conditions that affect your home value.


As the Official Real Estate Company of the Seattle Seahawks we are excited to announce the #WindermereFoundation will be donating $3,100 to YouthCare from yesterday's game as a part of our shared goal to#TackleHomelessness. For each home game tackle by the Seahawks, Windermere will donate $100 to help provide essential services and support for homeless youth.#12s #GoHawks #nfl #windermereblue #seahawks